WEBDISPATCHING for mobile phones
WEBDISPATCHING Mobile
WEBDISPATCHING Mobile allows you to conveniently access your data using your mobile telephone.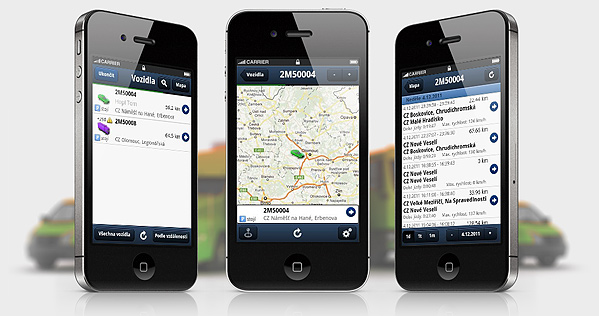 A map with current locations and vehicle drivers, travel log, costs and statistics is available to you. For immediate information you do not need to have a computer handy, all the essentials you can find are on your mobile phone.
This application is also suitable for drivers. For example, if a driver is in a strange city away from his or her vehicle, the application will display the distance from it and the driver should be able to reach the vehicle. A driver can also track other relevant data in the application such as average fuel consumption and vehicle diagnostic data.
Supported features
Android
iOS (iPhone, iPad)
Windows Phone
AktuŠlni_poloha
Find nearest vehicle
Vehicle movement history, log book
Driving style rating New
Events - accelerometer New
trip editing
Odometer correction
Alarms
Onboard Diagnostics
Costs
Refueling costs
Checking AETR *
SMS communication
Statistics
Language New
CZ, EN, DE, SK
CZ, EN, DE, SK
CZ, EN, DE, SK
Downloads: