What Is WEBDISPATCHING
Webdispečink is powerful software that gives you all the important information about your fleet vehicles. Move your business forward with Webdispečink and take control of your business.
WEBDISPEČINK OFFERS
Automatic logbook generation
Real-time vehicle tracking on the map
Detailed statistics on vehicles and drivers
Overview of refueling and consumption
Driving style of drivers
Calculation of travel allowances
ADVANTAGES OF WEBDISPEČINK
Reduction of cost
Reduction of wear and tear on vehicles
Reduction of mileage
Reduction of administrative burden
HOW WEBDISPEČINK WORKS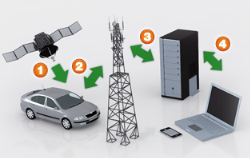 The WEBDISPEČINK product works as a mobile unit that is installed in every vehicle. This unit is able to determine the location of the vehicle based on GPS data and send this information to a central server via the mobile operator's network. The location and time data is then uploaded into the WEBDISPEČINK application. This information can then be displayed on the map.
To use this service, all you need is an Internet connection. You can then use the web browser to track vehicle locations or view clear reports. This, of course, is only the beginning of WEBDISPEČINK capabilities.
In fact, much more data than just location and time is sent over the mobile operator's network. The central server receives information about, for example, the fuel level in the tank, the driver who is currently driving the vehicle, the axle load, the temperature in the load compartment, and the like.
The WEBDISPEČINK application itself then allows you to perform various statistical summaries and evaluations, manage your fleet directly from the application, optimize routes, and so on.