Passenger vehicles
Monitoring of passenger vehicles is one of the most common telematics services. It mostly covers an automatic creation of a logbook that serves as a proof of the vehicle's cost. The drivers do not have to write a "paper" logbook and the company has a digital document for possible inspections.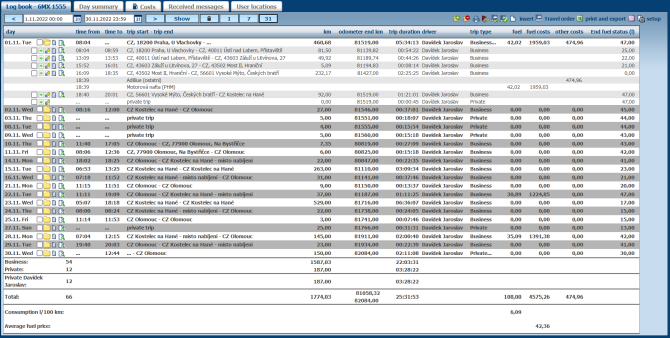 In addition, this data can be used by the users to calculate deductions for private mileage. For this purpose, chip readers are often installed in vehicles to recognize drivers if they take turns and switches to distinguish between private and business journeys. These peripherals can be elegantly replaced by the WD Driver mobile app. It uses Bluetooth technology to transmit directly to the GPS unit in the vehicle the driver's token, the type of journey and, in addition, the purpose of the journey (for example, a visit to client XY).
Users also often import vehicle costs from CSV (or other) files and have a perfect overview of, for example, the price and fuel consumption. However, other costs can also be entered to record the total cost of the vehicle.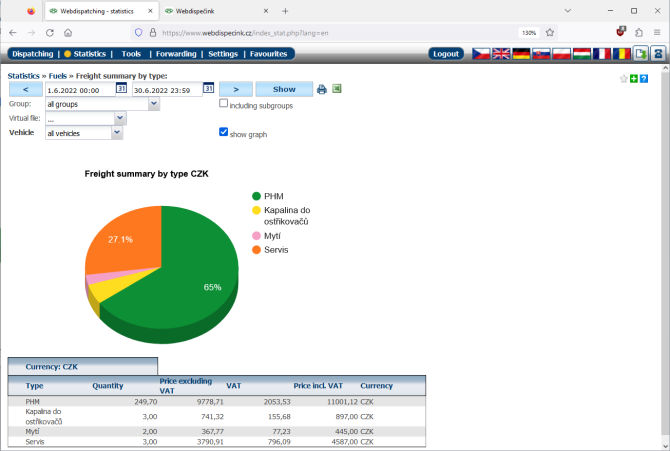 Monitoring the driving style of the driver has also been a frequent topic recently. In particular, speeding or unnecessarily abrupt starts, braking, cornering, which leads to greater driver safety, lower fuel consumption and lower servicing costs.
In general, the acquisition of monitoring in passenger vehicles brings:
Reduced mileage, consumption and wear and tear on vehicles
Instant overview of the current location of all vehicles
Clear distinction between drivers and their private and business journeys
Perfect overview of consumption by monitoring the vehicle's fuel tank and comparing it with imported vehicle costs
Report on driving styles of individual drivers
Increased efficiency of individual vehicles and workload
Automated generation of the logbook in accordance with current legislation
Automated generation of reports (company-wide private travel billing, meal allowances, etc.)
Visitor report for defined sites
Monitoring of safety breaks
Vehicle security
A car-sharing functionality called Car Rental is also often used for passenger vehicles. This system can book pool vehicles and offer carpooling if needed. Another trend in car sharing is the Car Sharing mobile app, which allows you to not only reserve but also unlock vehicles using only your mobile phone. This eliminates the complicated handing over of pool vehicle keys.