Fuel saving
The WEBDISPEČINK application allows you to monitor data on fuel consumption and the fuel level in the vehicle's tank. This data can then be compared with the set tolerance consumption or refueling records.
Knowing the fuel level in the tank also allows you to detect a sudden loss of fuel in the tank.
To do this, you can also use the specific function monitoring any suspicious fuel losses.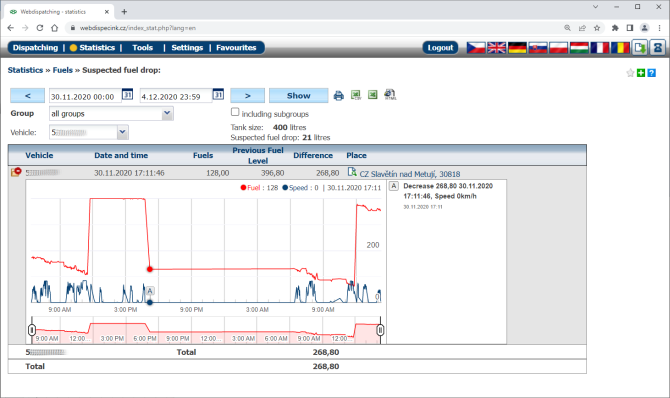 Refueling records from EUROWAG cards are automatically displayed in the WEBDISPEČINK system.

Other refueling records can be imported from files that can be obtained from gas station or fuel card companies. Similarly, charging data for electric or plug-in hybrid vehicles can be handled. It is then possible to compare these records with the actual (expected) fuel/energy in the vehicle. For example, this way you can find out that the fuel has not ended up in the vehicle at all.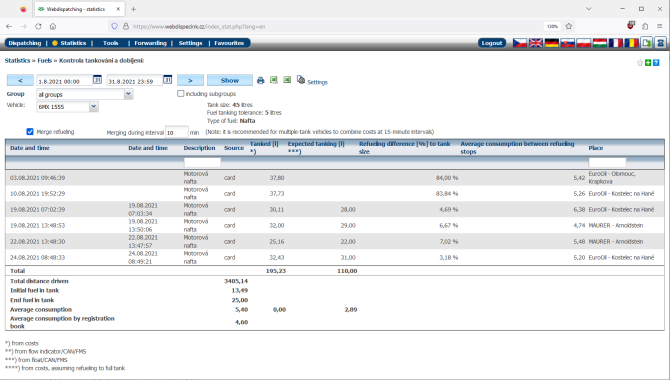 There is also the possibility of importing files from your own gas station or automatically linking them to the Webdispečink database using an API interface.
The fuel level in the tank can be measured by connecting to the vehicle bus (CAN, FMS, OBD) or to an existing float in the vehicle tank. Alternatively, external probes can be fitted to the vehicle tank(s). Resistive or capacitive probes are used as standard.
Fuel consumption measurement can also be used. This is usually done by connecting to the vehicle bus or, in specific cases, by fitting an external flow meter.