Mobile unit
The mobile unit is the "heart" of the entire WEBDISPATCHING service, collecting and sending all the necessary information from the vehicle and driver.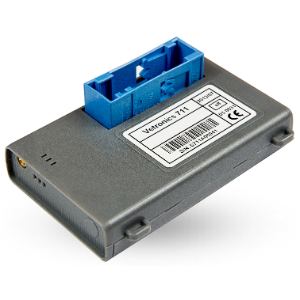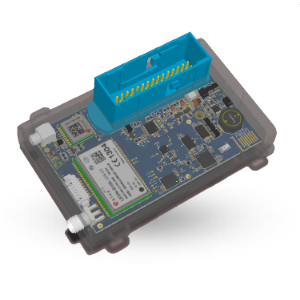 This mobile unit needs to be professionally installed in each vehicle to be connected to WEBDISPATCHING.
The mobile unit processes and sends a signal from GPS satellites, a global positioning system that incorporates either an onboard navigation unit or mobile telephone navigation). This makes it possible to monitor the exact position of your vehicle in real time (position, speed, direction, elevation, etc.).
The mobile unit is likewise connected to a vehicle bus from where various operational information is retrieved (fuel level, axle load, cargo hold temperature, diagnostic messages, etc.) and subsequently processed and sent. If necessary, additional sensors with specialized functions can be also connected to the mobile unit.
Last of all, the mobile unit can be connected to a car alarm. Unauthorized use of the vehicle causes the mobile unit to send an alarm message and information about the vehicle's movement and position.
Information is sent to the WEBDISPATCHING application through your mobile operator's network (data are sent using a SIM CARD and the mobile unit transmitter to the mobile operator, traveling from there to WEBDISPATCHING's central server).


We currently offer two versions of seventh-generation Vetronics units.
Individual versions differ in the support of some special functions. We will recommend you a version that ideally suits your requirements. Familiarize yourself with these options.
Comparison of VETRONICS 760 and VETRONICS 770 mobile telematics units
Funkce
Vetronics 760
Vetronics 770
Current position and condition
Route record
Driver identification
RFID, Dallas, Wiegand, RS232, tachograph
RFID, Dallas, Wiegand, RS232, tachograph
Business/private switch
Detection of vehicle activity
Key, CAN, Accelerometer
Key, CAN, Accelerometer
Alarm
Movement, unlogged drivers, sensors...
Driving style
Backup battery
Backup including charging, different battery capacities
Low-power mode
< 0.8mA
< 1mA
CAN
2 interface
2 interface
Kilometers driven
FMS statistics
OBD-II diagnostics
Engine light, error codes...
Engine light, error codes...
Tachograph interface
Identification, operating mode, data backup...
Identification, operating mode, data backup...
DriveCheck
Navigation interface
Garmin, Dynavix
Garmin, Dynavix
Analog inputs
8 inputs, 16bit converter, 0-32V
Digital outputs
2
4 outputs with overload protection
RS232 interface with peripherals RS232
Readers, fuel gauges…
Readers, fuel gauges…
Feed to external peripherals 1)
1)
5V or 3.3V2), 300mA
Bluetooth Low Energy
Audio set interface
3)
Internet
PPP
PPP
GPS antenna
External
External
GSM antenna
Internal
Internal
GSM Zone
Dual (900/1800 MHz)
Quad (850/900/1800/1900 MHz)
1) The product can be fitted with an additional power source at the desired voltage at customer's request.
2) The product can also be set to other required voltages at customer's request.
3) Option of either analog or digital voice set interface to a GSM modem. Must be specified before production.
Download
product list
product list