WD Fleet 3D
WD Fleet 3D is a mobile application that serves as a communication and navigation terminal for the driver in the vehicle. In cooperation with WEBDISPEČINK, it provides a comprehensive solution for planning, implementation and evaluation of transport.
As part of the solution implementation, we provide complete delivery of the installed tablet (including SIM card with data tariff) and accessories (holder, charger and cable). The tablet can then be handed over directly to the driver after a simple user setup.
In addition to navigation, the WD Fleet 3D app itself provides additional functions ranging from online communication with the dispatcher, to keeping a record of vehicle operation (electronic vehicle activity log), taking photos of documents and cargo, and displaying the driver's driving style (Perfect Drive).
There is an online synchronization between WEBDISPEČINK and the WD Fleet 3D application, so the dispatcher has an overview of the driver's current status.
UNIQUE FUNCTIONS AND FEATURES OF WD Fleet 3D
Integrated Sygic 3D professional off-line navigation including traffic and truck parameters
Multiple ways of transferring the transport route to the navigation - navigating to the destination, via waypoints, 1:1 route transfer
Receiving and executing transports sent by the dispatcher from Webdispečink or from third party systems via an API interface
Arranging stops along the route (checking the time spent at the stops)
Performing tasks at individual stops (Loading/Unloading) - possibility of making photos (CMR, invoice, order, cargo damage, accident, etc.), entering text, numbers (cargo weight, number of packages, etc.), scanning barcode, recording signature, etc.
Display of ETA to the loading/unloading point with driver's AETR taken into account
Two-way text communication between dispatcher and driver, possibility of sending location messages to the driver and sending files to the driver (DOCX, XLSX, PDF, JPG, GIF)
Entering driver activities and thus creating an online record of vehicle operation (vehicle activity log), which is then available in Webdispečink
Driver assistance when creating a vehicle activity log - recommending a change of activity, semi or fully automatic mode for creating vehicle activity logs
Display of the Perfect Drive driving style rating
Display of tire pressure and temperature (Continental's ContiPressureCheck support)
Display of information from the digital tachograph (AETR) to the driver in a clear graphical format
Notification of the nearest refueling station in the vicinity, including display in Sygic navigation (POI points) and navigation to the selected station - refueling and recharging (for electric vehicles) directive determines where the driver may or may not refuel
Voice alerts for current events (approaching a bus stop, refueling station, etc.)
Support for 8 languages - Czech, Slovak, English, German, Polish, Hungarian, partly Russian and Ukrainian
Possibility to record refueling with online entry directly into WEBDISPEČINK, overview of refueling
Work with trailers, semi-trailers and containers
Automatic day/night mode
Printing a temperature report during transport (Epson TM P20 printer support)
For a specific quote, please contact our sales or support staff at webdispecink@eurowag.com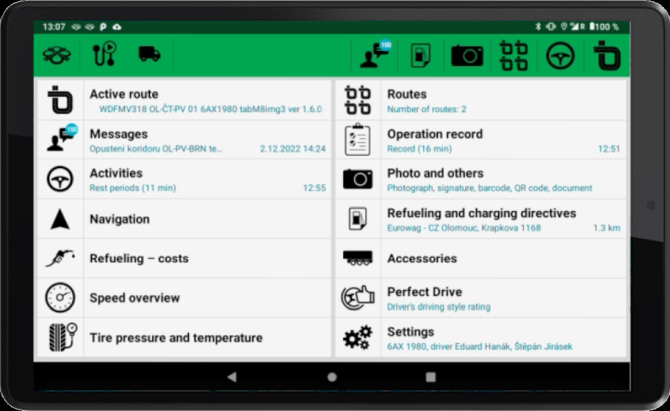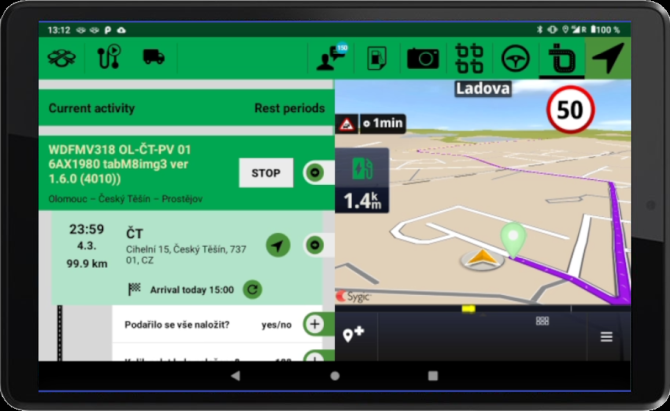 More info: