Optimize distribution and haulage
Introducing an optimization tool to let users create effective transport schedules, based on customer orders, while complying with shipping and customer restrictions, maximizing utilization and minimizing transportation costs. The system can be set for operations with three or three hundred vehicles.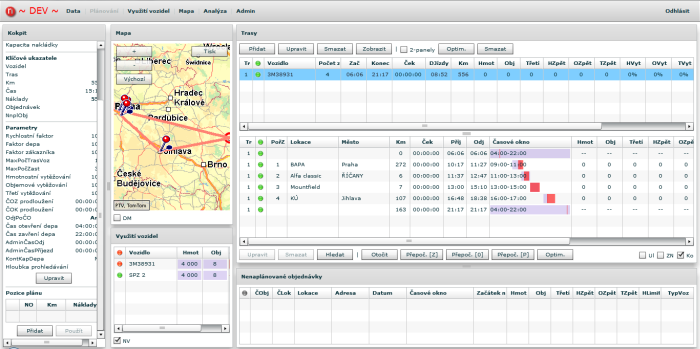 Using the system
Reduce transport costs typically by 10-20%.
Speed up preparation of transport schedules.
Improve customer service.
Easily estimate the impact of changes in your fleetís composition.
Typical constraints to be taken into account when creating your schedule:
Time windows of customers
Tonnage restrictions
Limits on certain types of vehicles
Time availability of vehicles
Loading capacity
Different road capacities for various types of vehicles
The system runs on powerful sensors which are accessible through the Internet and can be launched into operation almost immediately. Customer orders are entered into the system either manually or automatically through an interface from the ERP system. Of course, this interface has to be first created in cooperation with the client. When optimizing, digital maps are used that contain information about tolls, bottlenecks and speed limits at sections for different types of vehicles, among other things. Once a schedule has been prepared, general itineraries can be printed for drivers and stops sent to navigate them, while information about estimated time of delivery, pickups, etc. can be e-mailed to customers.