Optimize of deliveries and collections
Introducing an optimization tool that allows users to create an efficient transport plan based on customer orders, respecting transport and customer restrictions, maximizing fleet utilization and minimizing transport costs. Deploying the system makes sense in both three and three-hundred-vehicle operations.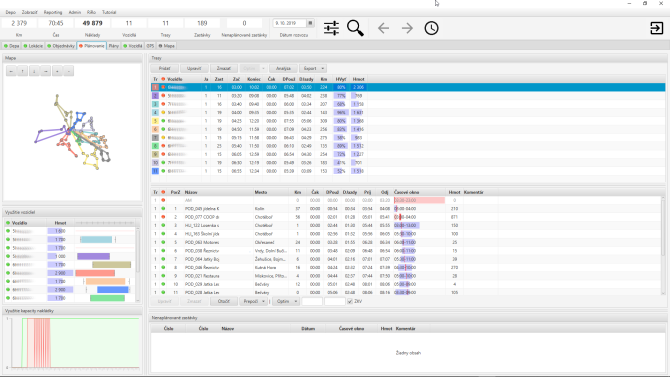 It is proven that by using the system, the following can be achieved:
Reduced transport costs typically by 10-20%.
Accelerated preparation of the transport plan.
Improved customer service.
Easily estimated impact of a change in fleet structure.
Typical restrictions that can be considered when developing a transport plan:
Customer time windows
Weight restrictions
Restrictions on certain types of vehicle
Time availability of vehicles
Loading capacity
Different road clearance for different types of vehicles
The system is operated on powerful servers accessible via the Internet, and can be used almost immediately. Customer orders are entered into the system either manually or automatically from the ERP system via an interface. Of course, this interface must first be created in cooperation with the client. Within the optimization, we use digital maps containing information on toll charges, section speeds and passages for different types of vehicles, and so on. Once the transport plan has been prepared, we can print out clear itineraries for drivers or send delivery/haul routes directly to the drivers via the WD Fleet mobile app.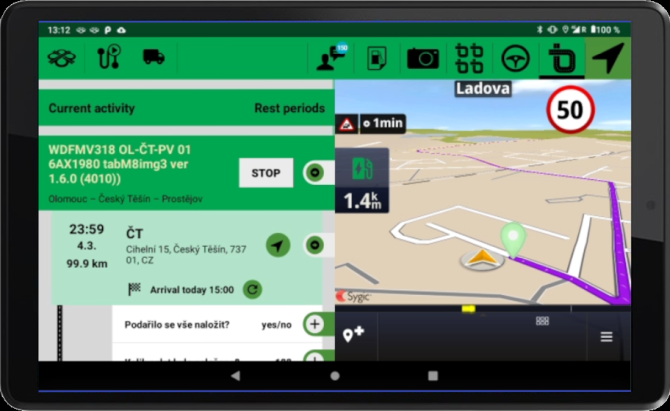 Beneficial is the possibility of refining future delivery/hauling plans by comparing the original routes with the actual routing and course of transport. For example, it is possible to find out the real location of the unloading/loading compared to the registered address, as well as to specify the time requirement, which means that some stops can be cleared faster than others. Alternatively, comparing the plan with the actual delivery/hauling process can reveal unvisited stops or those that were beyond the original plan. All of this leads to a more efficient operation of the entire company fleet.