Monitoring operation parameters
Both the WEBDISPEČINK hardware and software are designed to monitor (and of course record) important parameters related to the vehicle and its movement in real time.
For illustration, here are some options:
By monitoring the fuel level in the tank, you can easily detect unauthorized fuel tampering. This can be done either by connecting the vehicle buses or by installing an external fuel probe.
If the vehicle allows it, the exact odometer reading, i.e. the distance travelled, can also be taken as standard.
The driving style of the driver, which is directly related to the wear and tear of the vehicle, can also be evaluated. This is done by a three-axis accelerometer in cars and the PerfectDrive module in trucks.
For semi-trailer trucks, you can monitor the load on the rig, so you can see how heavy the load is being transported.
The temperature in the transport compartment can also be measured. The measuring is done by installing external temperature sensors or by connecting to selected CARRIER or THERMOKING cooling units. This is important for temperature-sensitive shipments such as food or medicine.
The speed of the working machine can also be evaluated, so it is easy to determine how long the machine has actually been running and how long it has been idling.
It is also possible to connect to an activation element in the vehicle that triggers a special activity and monitor, for example, when the hydraulic arm, pump, compressor, body tipping, road gritting, bin dumping, etc. have been started.
Or you can just monitor the additional drive of the so-called PTO on the vehicle bus.
External sensors or devices can also be connected to the unit to provide information such as opening the load compartment, triggering an alarm, putting the plough in working position, activating the seat belt, etc.
For some vehicles, we can also help with vehicle diagnostics by reading "error messages" from the car's on-board computer. As a result, you can often prevent more serious vehicle breakdowns.
Some data is displayed directly in the vehicle information.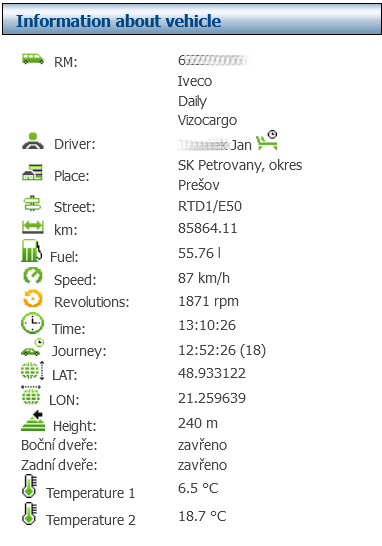 Others in specialized reports. For example, Logbook entries.